Juventus F.C.
Edit
Juventus are an Italian club from Turin, Piedmont. The black and white club of the Italian North is known by various nicknames: la vecchia signora (old lady), fidanzata d'Italia (girlfriend of Italy), madama (Piedmontese for: madam), bianconeri (White & Blacks), zebre (zebras), signora omicidi (killer lady) and goeba (Gallo-Italic for: hunchback). Juventus itself derives from the Latin word "iuventūs", which stands for "youth".
Juve were established in 1st of November 1897 as Sport-Club Juventus. Among the home stadiums used by the club are the legendary Stadio Delle Alpi (1990-2006), Turin Olympic Stadium (Stadio Olimpico, 2006-2011) and their modern home stadium, Juventus Stadium, where Delle Alpi once stood.
The club is known for winning the Italian Serie A 32 times, which is a national record, the 2006-2007 Serie B, after the previous season's match fixing scandal, the Italian Cup 11 times (also national record), the Italian Super Cup 7 times (also national record) and various international titles (UEFA Champions League twice, European Cup Winners' Cup once in 1984, UEFA Cup thrice, UEFA Intertoto Cup in 1999 and UEFA Super Cup twice, while they've won the Intercontinental Cup also twice).
So far, starting from PES 3, Juventus were a licensed club, with its home ground included in-game. Nobody expected this situation, but in any case, Konami lost the club's license in 2016 and will be for the first time included without license. The unlicensed name of the club as of PES 2017 is "PM Black White". Easy to understand; "PM" stands for "Piedmont", the region of Turin, the home city of the club, while Black and White are the colors of the club.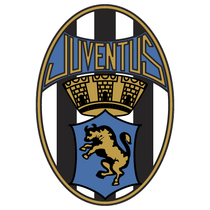 PRO EVOLUTION SOCCER 6 squad (2006-2007 Serie B campaign)
Edit
| Position | Nationality | Name | # |
| --- | --- | --- | --- |
| GK | | Buffon | 1 |
| GK | | Mirante | 12 |
| CB | | Masiello | 34 |
| CB | | Piccolo | 13 |
| CB | | Tudor | 5 |
| CB | | Legrottaglie | 30 |
| CB | | Zébina | 27 |
| CB | | Boumsong | 90 |
| CB | | Robert Kovač | 4 |
| SB | | Bartolucci | 31 |
| SB | | Birindelli | 2 |
| SB | | Balzaretti | 14 |
| SB | | Chiellini | 3 |
| DMF | | Paro | 19 |
| DMF | | Giannichedda | 8 |
| CMF | | C. Zanetti | 6 |
| SMF | | Marchionni | 32 |
| SMF | | Camoranesi | 16 |
| AMF | | Chiumiento | 91 |
| AMF | | Nedvěd | 11 |
| SS | | Guzmán | 23 |
| SS | | Sculli | 28 |
| SS | | Palladino | 20 |
| SS | | Del Piero | 10 |
| CF | | Volpato | 92 |
| CF | | Božinov | 9 |
| CF | | Zalayeta | 25 |
| CF | | Trézéguet | 17 |