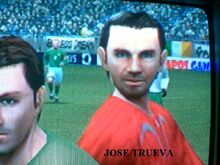 Jose Trueva is a Spanish football referee who last appeared in Pro Evolution Soccer 6. Although he rarely touches his pocket to reveal a card, Jose Trueva is known for blowing his whistle a lot; you guessed it right - this man has a high-level foul strictness. Nevertheless, he is still respected by a large section of the global Winning Eleven/Pro Evolution Soccer community.
BIO: Jose Salvador Trueva Peláez was born in 1965 in Badajoz, Extremadura, Spain. Son of an amateur painter, Jose Trueva is a professional referee who climbed quite quickly the ladder of the Spanish Football Federation Referee hierarchy. He is currently arbitrating as a Segunda División B and Segunda División referee, as well as a fourth official in Primera División.
THEORY: He was named after Martim Trueva, a Portuguese tennis player, who was crowned Men's Doubles champion with Vasco Pascoal in 2009.