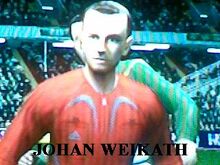 Johann Weikath is a German football referee who last appeared in Pro Evolution Soccer 6. He and his Irish-born English colleague, Martin O'Brien, are the two lenient referees featured in the game. Although he is anything but strict, Johann Weikath isn't generally embraced by the Winning Eleven/Pro Evolution Soccer community, the members of which are rather keen to select between Mario Pedrotti, François Séraphine and Alverto Carlos.
BIO: Johann Weikath was born in 1967 in Karl-Marx-Stadt (present day Chemnitz), Saxony, East Germany. Weikath runs his own law firm in the nearby city of Aue. He is also a 2. Bundesliga referee.
THEORY: Johann Weikath was named after Michael Weikath, a (West) German heavy metal musician from Hamburg.