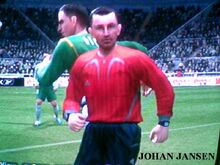 Johan Jansen is a Dutch football referee who last appeared in Pro Evolution Soccer 6. Jansen is considered a pretty decent referee, yet his foul strictness level is low; in other words, although he is just with the cards, when it comes to fouls, he isn't the type of referee who gives them easily. Despite that, he is generally considered an adecquate referee.
BIO: Johan Jansen was born in 1966 in IJmuiden, North Holland (Noord-Holland), The Netherlands. Son of a fisherman and a school teacher, Jansen abandoned his studies after his mother died to help his father with his business. In 1997, Johan acquired an arbitrating license and decided to devote his life to football arbitration. He has married twice and has four kids.
FACT: Jansen is a common Dutch surname.