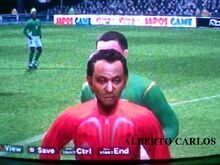 Alverto Carlos is a Brazilian football referee who last appeared in Pro Evolution Soccer 6. Carlos is a just referee and maybe the most loved among those available in-game. Polls from various Winning Eleven/Pro Evolution Soccer blogs show that this guy is generally preferred, rather than his strict colleagues.
BIO: Alverto Élder Carlos Barbosa was born in 1964 in Caçador, Santa Catarina, Brazil. The only son of a farming family, Alverto played semi-professional football for various clubs in Santa Catarina, before pausing his career and returning to his family's farm. After a decade, he decided to apply for a football arbitration license, which he acquired shortly after he finished watching seminars in Portugal and Germany.
FACT: "Alverto" is a misspelling of "Alberto".